The shooting took place at the offices of the satirical magazine Charlie Hebdo.
I'm sure this will be labelled "workplace violence"
Several people have been killed by armed gunmen in a shooting at the Paris offices of a satirical magazine, according to French media reports.
Shooting was heard at the headquarters of Charlie Hebdo, a satirical magazine known for publishing controversial cartoons of the Prophet Mohammed in 2011.
Initial reports said between seven and 10 people had been killed.
The attackers reportedly escaped in a black Citreon DS, wounding a policemen, then knocking over and wounding "several" pedestrians.

"Several men in black cagoules were heard to shout 'the Prophet has been avenged'", wrote Pierre de Cossette, a broadcast journalist with Europe1 News.
Clearly, there seems to be no possible motive
The magazine cover this week is on "Submission," a book by Michel Houellebecq released today, which is sparking controversy with its depiction of a fictional France of the future led by an Islamic party and a Muslim president who bans women from the workplace.
Further, from The Guardian:
Charlie Hebdo has a long record of taking its satire seriously. The weekly magazine's response to previous efforts at intimidation was to be even more controversial or outrageous, defying the constraints of religious sensitivity or political correctness.

In November 2011, its offices were fire-bombed after it had published a special edition, supposedly guest-edited by the Prophet Mohammed and temporarily renamed 'Charia Hebdo'. The cover was a cartoon of Mohammed threatening the readers with 'a hundred lashes if you don't die laughing'.

The petrol bomb attack completely destroyed the Paris offices, the magazine's website was hacked and the staff were subjected to death threats. But six days later, it published a new front page depicting a male Charlie Hebdo cartoonist passionately kissing a bearded Muslim man in front of the charred aftermath of the bombing. The headline this time was: L'Amour plus fort que la haine (Love is stronger than hate).
The best defense of Freedom of Speech is MORE Freedom of Speech.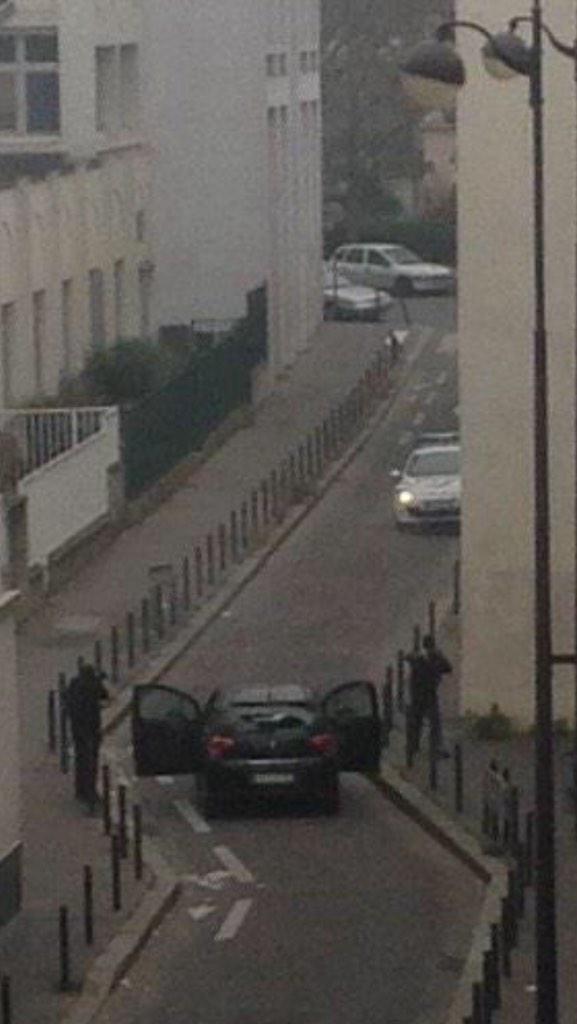 3 Responses to "At Least 11 Reported Dead In Paris Shooting"