Some reports are saying perhaps 25 people, including at least 7 police, were killed in yesterday's clashes in Kiev
Police are storming the main protest camp in Ukraine's capital, Kiev, which has been occupied since November.

Explosions are taking place, fireworks are being thrown and large fires have broken out in Independence Square.

On Tuesday at least 18 people were killed, including seven policemen, in the worst violence seen in weeks.

President Viktor Yanukovych blamed the violence on opposition leaders, but said it was still "not too late to stop the conflict".

He was speaking after a late-night meeting with opposition figures Vitaly Klitschko and Arseniy Yatsenyuk.
Key dates

21 November 2013: Ukraine suspends preparations for a trade deal with the EU, triggering protests
30 November: Riot police first take action against protesters, injuring dozens and fuelling anger
17 December: Russia agrees to buy Ukrainian government bonds and slash price of gas sold to Ukraine, taking wind out of protest movement
25 December: Renewed outcry after anti-government activist and journalist Tetyana Chornovol is beaten
19 January: Protests take a violent turn as demonstrators torch police buses and throw petrol bombs; police respond with rubber bullets, tear gas and water cannon. Several died in following days
18 February: Bloodiest day of the clashes sees civilians and police officers killed
In a bold display of Smart Power, the US said it was "concerned."
And from Twitter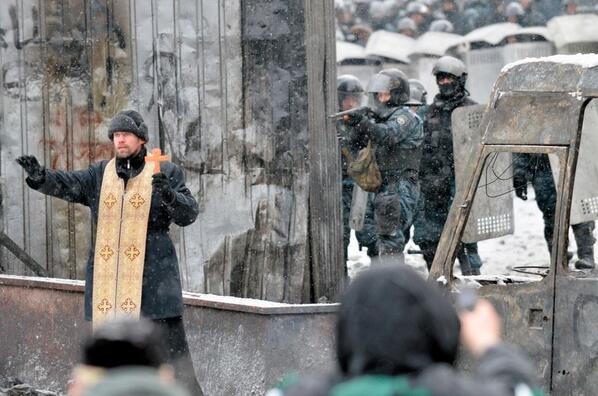 (it should be noted that the above picture is a week old, not from yesterday/today)
4 Responses to "Chaos in The Ukraine"