I can't f*ckin' believe this asshole.
Obama wants Marines to wear 'girly' hats

A change to the Marine Corps' uniform hats could take the hard-nosed Leathernecks from the Halls of Montezuma to the shops of Christopher Street.

Thanks to a plan by President Obama to create a "unisex" look for the Corps, officials are on the verge of swapping out the Marines' iconic caps with a new hat that some have derided as so "girly" that they would make the French blush.

"We don't even have enough funding to buy bullets, and the DoD is pushing to spend $8 million on covers that look like women's hats!" one senior Marine source fumed to The Post. "The Marines deserve better. It makes them look ridiculous."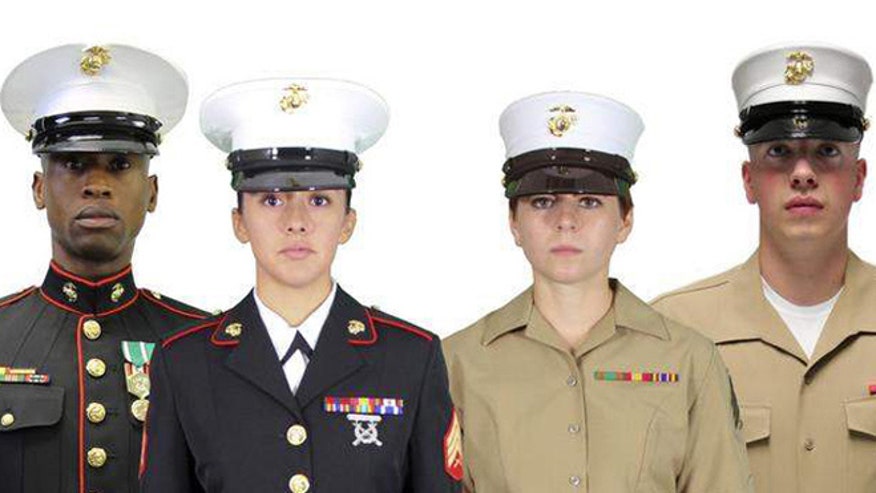 another take on it. Supposedly the manufacturer of our SUPER FUGLY WM cover went out of business and that's what started all this. And Obama ABSOLUTELY, POSITIVELY had NUFFINK to do with any of it.
SUPPOSEDLY.
The Story About Obama Wanting Marines To Wear 'Girly' Hats Is Total B.S.

…But just to make sure, I called Headquarters Marine Corps and a spokesperson confirmed that the process for making changes to Marine uniforms hasn't changed since I last left the service in 2010.

…"The President in no way, shape, or form directed the Marine Corps to change our uniform cover," said Capt. Maureen Krebs, a spokesperson for the Marine Corps. "We're looking for a new cover for our female Marines for the primary reason that the former manufacturer went out of business. The Marine Corps has zero intention of changing the male cover."
How do you spell, 'Oh. My. Dyin'. Ass.'?
13 Responses to "Obama HATES Marines"