From your first day on Earth, when I looked at your little red face through the hospital glass, to the day we watched you marching with that uniform on and got to meet the incredible woman who would become your wife, with everything (like 2 children) in between and afterwards, you have FOREVER been an integral, much loved part of OUR lives. Your mom Kcruella has been the sister I never had and you? Our second son, Ebola's little brother, forever cousin, the family ties thicker than blood.
I can't think of anything to say, my heart is so heavy and sick. Ebola had something perfect to say and so I will leave it to him, with a simple God bless you, baby boy and I pray He holds your family close.

Dear Lord, we love you so much.
I was raised the sole child of two Marines in Southern California; my friends and my family are their friends/coworkers and children from while my parents were stationed there. Three of those children were my brothers, even while we've always referred to each other as cousins over the last thirty years. Years of playing hide and seek, riding bikes, of reiterating every line to Predator and/or Aliens as the movies played, laughing and bitching at each other, playing capture the flag, tag, finding injured animals and trying to nurse them to health, and telling bad jokes. We've all gone our separate ways over the years: the twins are successful in business, the other two of us entered service. All of us rarely get to see each other, even for special occasions, but it's always the normal shit talking, smiles, laughter, the hate and situational discontent of youngsters. We all still talk to this day, almost thirty years later.

At 0136Z on the 12th of November, while I slept in the comfort of my home in the Pacific, the Taliban took part of my childhood. They took our brother. They took him from a loving wife, their beautiful children, from his mother and father, from an extended family, of blood and without, who loves him dearly. I'd just shot him a message ten days before, telling him happy birthday. I can't stop reading our last email chain, filled with our normal bullshitting, split over days due to conflicting schedules and locations.

John: "What do you think you're doing?"

Me: "I assume making huge mistakes and blaming other people. How's life cuz?"

John: "Life is good. Probably not as pleasant as Guam, but the ol' Stan has its perks. You can buy a magic carpet over here but it won't fly. It will make around $1500 disappear from your wallet. I just got a box from your mom and dad loaded with cookies. How much longer is your tour over there?"

Me: "Probably extending until Oct. Waiting to see if my SERE instructor or HUMINT packages get accepted. If they do, the AF retains me, if not I get out and go back to contracting. How in the fuck do camel rugs run 1500? What a racket. lol"

John: "So you're staying in Guam until October or are you getting out then? Those rugs are expensive but about 1/4 the cost they are in the states for a handmade Kashmir Persian rug. Smoother and softer than a babys' ass. They've got all kinds of crap out here you can get custom made. I'm thinking about getting a new MOS myself but I've got to wait until I get back and find out where the Army is sending me next."

The last words between John and I are shooting the shit about a fucking rug. To be honest, I wouldn't have it any other way: it was us, as we've always been. We're both family and we know it, it never required quaint expressions or platitudes of familial bullshit. I chuckle thinking about it, things never changed in all those years, even though we're both vastly different individuals from who we were in our youth. I still remember trying to explain to him as kids that his wearing his LA gear shoes lit up and gave away our position during capture the flag. His talking me into telling a dirty joke, memorizing it the first time through, smiling and running to rat me out to Pop.

I can't do shit but sit here, hate that I can't kill every one of these goat fucking shit shamans, and wait for a time where I can do something besides tell our families I love them. When I came into the Air Force, my highest honor, to this day, was escorting my flight commander, Nathan Nylander's family. The distinct, burning memory I have of that is standing at attention on the flight line as his body was brought off the aircraft, and having his young children begin to cry, not a stones toss from me, as the realization set in that it was really happening. It fucking destroyed me. That pain, though painfully memorable, was momentary. It was the singular hardest thing I've ever had to do, until now. I know that is coming for my family and the absolute pain and hatred it inspires in me is indescribable. I want to strike out, to defend something that has already passed defending. There is nothing but the most tenuous vapors the wind to strike at. My hatred accomplishes nothing, which only makes me hate all the more deeply. I am sitting at the squadron right now as I write this, a non-commissioned officer in the strongest military on the planet, thousands of miles from our families, on a beautiful island filled with wonderful people that can't drive to save their lives… and //I can't fucking do anything.// Now, I've typed a small book and said nothing I wanted to say by it.

I'll close with what John already knew: I love him like a brother, and I wish all our/my friends had had the opportunity to get to know the fucking badass he grew into. I have no hesitation in saying he grew into a better man than I did and that will live on through his children.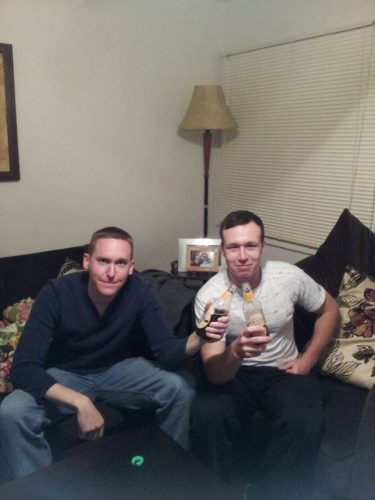 13 Responses to "We Are So Proud of You, Sgt John"