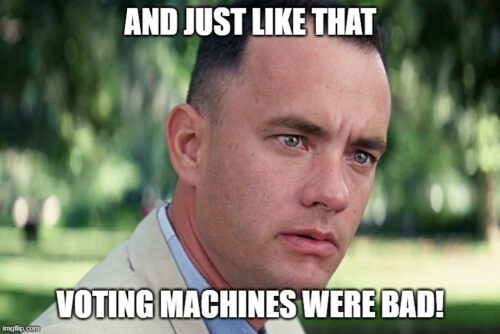 Yes, you heard the man.
Suddenly, it's A-OKAY to talk about VOTING MACHINES BEING VUNERABLE, and not, you know, get run out of town on a rail.
And, oddly enough, it seems EVERYONE suddenly wants to talk about HOW AWFUL voting machines are, even…the government.
WHOA.
Now, you know me. I don't want to seem too cynical in light of these developments…but. Does kind of make you stroke you chinny chin chin and wonder why the change?
AND why NOW?
AND…what happens to all those high dollar lawsuits Dominion filed against myriad people…TRUMP people?
AND if, as this AP report states, the advisory is based on another expert's testimony at one of the Dominion lawsuits…WELL?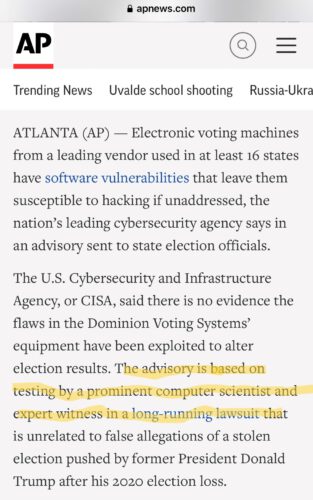 Questions, questions, questions.
And I didn't just fall off the cabbage truck yesterday.
So, I got me an idea of pretty many of the answers already. I just want to see them squirm if someone has the nerve to ASK.
5 Responses to "Democrats Must Be Anticipating Disaster"