…kan be pretty nasti.
Two Dutch nuns, wearing habits and riding bikes, chased a suspected thief through Amsterdam, police said Monday.
On Saturday evening, one of the sisters believed she recognized a man walking past their chapel in southern Amsterdam as a thief who snatched hundreds of dollars in cash from the building two weeks earlier…
…"The nuns then grabbed their bikes and gave chase. They tried to grab him, but he managed to escape into a residential neighborhood and they lost him," Van der Veen said. Police hunted for the man in the neighborhood but could not find him.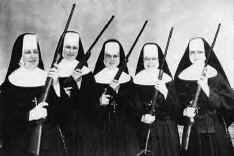 One Response to "Mynd you, Angry Nuns on Bikes"