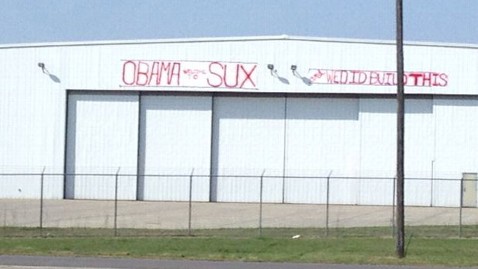 Iowans' Message to Obama: 'We Did Build This'

SIOUX CITY, Iowa — President Obama received a less than warm welcome and a warning upon arrival at the airport here on the second stop of his Iowa visit, which was aimed at recapturing some of the magic the state gave his run to the White House in 2008.

Greeting Air Force One as it touched down under sunny skies and sultry heat was a hand-painted banner draped across the top of an airplane hangar that reads, "Obama Welcome to SUX – We Did Build This." "SUX" is the airport code for Sioux City.
Coulda gone to Louisiana and been a big hero, dude.
Just sayin'…
3 Responses to ""OBAMA Welcome to SUX and WE DID BUILD THIS""