The always politically correct, religion of peace types at CAIR (Council on Islamic-American Relations) have gotten caught with their hajib down. Or up, as the case may be. It looks as if a three year old was put to work with a Sharpie, retouching an unswathed woman in a press shot into a model of Islamic modesty. JihadWatch has the before and afters. The best part of the entire despicable incident is the response of PhotoShoppers around the world, who have rallied to show CAIR just how a retouching is really done. One shining example from the efforts at Protest Warrior's forum (Swill Salute to LenaWarriorPrincess):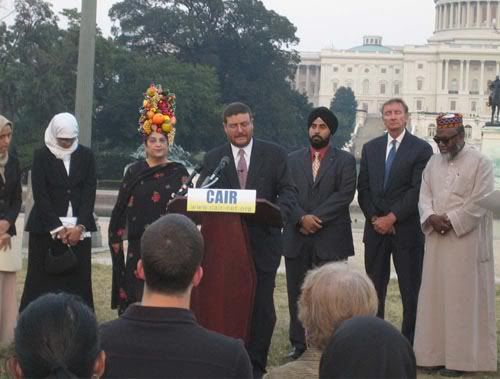 Here's the original, if anyone wants a whack at it. Send me the links and we'll post them in the extended section. Best entry gets Sir Rob's jelly donut. Modestly iced, of course.
UPDATE: Mr. Summers IS a genius jelly donut! I am tickled to present the maestro's entry, entitled:

"Say that again, you f@cking misogynist r@ghead BASTARD?"


I wouldn't mess with that chick. She'll kick your ass.
10 Responses to "On a Lighter Note..Is Mr. Summers Busy?"