…yet another weird, historical confluence ~ a Yin and Yang, them and us, as it were. (Pretty appropriate, considering the debate in the House and airwaves lately.) The Yin of it?
Bunker Hill.
No one of the thousands who crowded the housetops, church steeples, and shore batteries of Boston to watch the spectacle ever forgot the extraordinary scene they witnessed. June 17, 1775, was an absolutely still, brilliantly clear summer's day. Viewers in Boston only half a mile away could make out the stages of the battle clearly.

It didn't go well, but we didn't give up.
And the Yang?
June 17, 1940 ~ France asks Germany for terms of surrender in WW II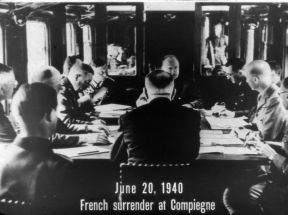 Three days later, the 'give up' was complete.
6 Responses to "On This Date"