This sure sounds like his style:
NEW YORK (FORTUNE) – Faced with the inability of two bickering attorneys to resolve even the most innocuous scheduling questions without his intervention, a Florida federal judge yesterday ordered the two to meet on the steps of the federal courthouse and resolve their latest quarrel by playing "one (1) game of 'rock, paper, scissors.' "
Judge Gregory A. Presnell of Orlando ordered the unusual measure, which he characterized as "a new form of alternative dispute resolution," after the two Tampa attorneys had proven unable to agree upon where to hold a deposition, even though both of their offices are just four floors away in the very same building in Tampa.
I always sort of imagined the SCOTUS playing Twister in those robes…
THS UPDATE and BUMP: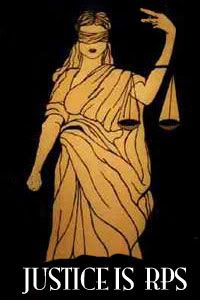 Having always been an East Coast "one potato, two potato", "DO over" kind of liberal, I made the mistake of asking my midwest spouse about the etiquette/rules of engagement of said "rock, paper, scissors". After a masterful exhibition he says "Google it". I did. And determined you RPS people need THERAAAAAPYYYYY…..!!!! (But you DO know how to throw a party tournament!)
Kristen Lance of Philadelphia, PA takes top honours at the 2006 Southwestern Pro-Am Rock Paper Scissors Tournament held at Roshambo Winery in Healdsburg, CA.

With her incredible display of RPS mastery, Ms. Lance obliterated her competition, leaving her as the sole undefeated player out of a field of 256. Players from all over the U.S. congregated to witness what many have called "The RPS social event of the season". Scorching heat and copious amounts of Zinfindel seemed to have no effect on her ability to feed each competitor their own ego.
Thanks to the organizers, referees and incredible staff at Roshambo Winery for showing the entire Southwest how to run a real RPS tournament. Remember World RPS Society members get 10% off at the Roshambo tasting room (the servers also happen to be top notch RPS players if you are looking for a match).
A girl after our own Swill heart.
2 Responses to "Our Florida Legal Eagle Exerting His Influence At Last?"