Paying off mismanaged Blue State deficits.
"Ok. Thanks to @SenSchumer NYS budget deficit for this year is…..Zero, nada, niete, zilch (NY terms)," Schumer spokesman Angelo Roefaro tweeted.

The American Rescue Plan provides state government coffers with $12.6 billion in unrestricted aid, a measure championed by Schumer, the New York senior senator. The measure passed the Senate in a 50-49 vote and is expected to clear the Democratic-led House of Representatives on Tuesday and delivered to President Biden for approval.

Asked if the geyser of pandemic relief eliminates the needs for tax hikes or spending cuts, Roefaro told The Post, "the statement speaks for itself."
And all this time you thought it was "COVID relief," you silly, trusting person.
A "GEYSER" of YOUR MONEY for New York. NEW effing YORK.
Anybody REALLY mad yet?
UPDATE: But WAIT!! THERE'S MORE!!
We get to pay for shithole San Francisco, too!!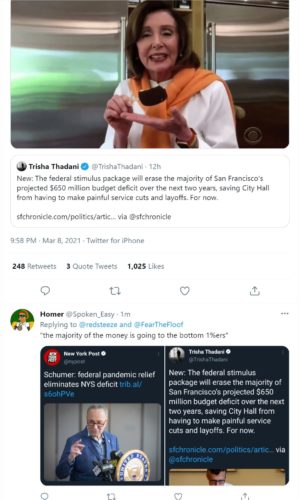 One Response to "Your Tax Dollars at Work"