First GM, now McDonald's. Clueless, completely clueless.
Mickey D's wants to make workers 'phat'?
Report says McDonald's had asked Tommy Hilfiger, P. Diddy, among others, for a 'uniform' makeover…
…"We're looking at how do we make our uniforms more appealing, more desirable*," Bill Lamar, chief marketing officer for McDonald's (Research) USA, was quoted in the report as saying.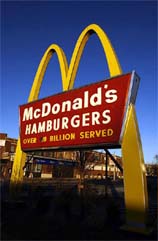 Okay, Lucy, lemme 'splain this one. More. Time. It's a PRODUCT and CUSTOMER SERVICE/lack there of issue. Both of those need to be "more appealing, more desirable", before some sweaty teenager at the register's polo shirt. AND I could give a rat's ass what your uniforms look like, when the doofusses enrobed in them stack a BigMac with the two hamburger patties in one layer and the cheese in the other. Routinely.
Yeah, Micky D's. Welcome to my world.
*emph. mine
3 Responses to "Oh Yeah, That'll Make a Difference"